The Really Truly Hillary Gallery
The Ultimate Online Archive of Unflattering Hillary Clinton Photos
The election season is upon us. And that means only one thing: Hillary Clinton will be topic #1 across the nation for at least the next year. We will be saturated by Hillary news.
Bloggers, pundits, journalists, satirists and Photoshoppers are going to need a steady stream of Hillary images to illustrate their postings and stories over the upcoming campaign season. And if you're not exactly a Hillary fan, you're going to want
unflattering
pictures of her.
But where to find them? The mainstream media, for the most part, tends to only publish their "best" photos of her -- pictures that make her look good. As a result, awkward, funny, strange, and patently ridiculous candid photos of Hillary can be a little hard to come across.
Until now.
As a public service, zombietime has compiled this gallery of unflattering Hillary photos. And I will maintain it and continue to expand it at least until the 2008 presidential election. The photos on this page come from a wide variety of sources -- from personal snapshots, to historical archives, to standard mainstream news photos.
The purpose of this gallery is not as entertainment itself, but rather to serve as a resource for bloggers, journalists, Photoshoppers and so on to find and re-use the Hillary photos of their choice. So feel free to download any of the pictures you see here to your own hard drive, and re-use them however you see fit. Come back again and again whenever you need a new unsightly photo of Hillary! (As for how to download a picture from a Web page to your computer: there are a variety of simple techniques, depending on your browser and operating system. In many cases you can simply drag the image to your computer desktop or hard drive icon; or you can alt-click or control-click the image and select "Save image to..." or "Download image.")
Is this "fair"? Is it mature, impartial and reasoned? Of course not. But this
is
politics, after all. My goal is to puncture the perfectly-honed public image of Hillary maintained by her campaign staff, and undermine any attempts to control the public perception of her.
If you know of any additional unflattering images of Hillary Clinton not visible on this page, I encourage you to
email me
either a link to the image online, or the actual image file itself.
MAKE SURE YOU VIEW THIS ENTIRE PAGE BEFORE SUBMITTING NEW IMAGES.
I do not want to keep getting repeat submissions of the same picture. And also, keep in mind that
this gallery is only for authentic, unaltered, real photos of Hillary Clinton.
Do
NOT
submit Photoshops, drawings, satires, montages, or any image that is not an actual, natural photo of Hillary. Any such submissions will not be posted here.
So -- start downloading! Any questions or suggestions can be sent to the email address above.
(Thanks to the following people for submitting photos used on this page: insanity police, Jammie Wearing Fool, Ringo the Gringo, jcm, Killgore Trout, Thanos, lawhawk, uncle_monkey, Stuck-in-CA, Ed M., NYNana, Carl in Jerusalem, Val C. mama winger, Perry M., Jonathan C., David S., SeafoodGumbo, JK, gene, Chanoc.)
---
After extensive research, I determined that the above photo, which I originally thought might have been "too good to be true" and perhaps digitally altered in some way, is actually an authentic photo of Hillary Clinton, released by the Associated Press on March 30, 2007. The original can be found on an official Associated Press web page
here
, bearing this caption: "Democratic presidential hopeful Sen. Hillary Clinton of New York reacts to seeing and
[sic]
old friend during a campaign stop at the National Education Association New Hampshire, in Concord, N.H., Friday, March 30, 2007. (AP Photo/Jim Cole)." The same photo with an Associated Press watermark can be found
here
. It was also reproduced untampered-with on various blogs -- even pro-Hillary blogs,
such as this one
-- in the following days. I also have found no evidence that it has been Photoshopped in any way, which can only lead me to conclude that the photo is authentic.
This photo is authentic, although there are various other versions of it in which the contrast and saturation have been altered to further distort her face.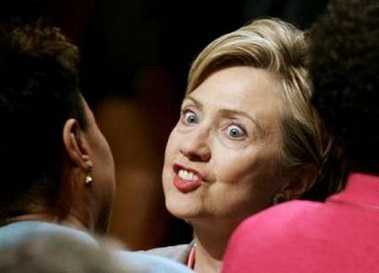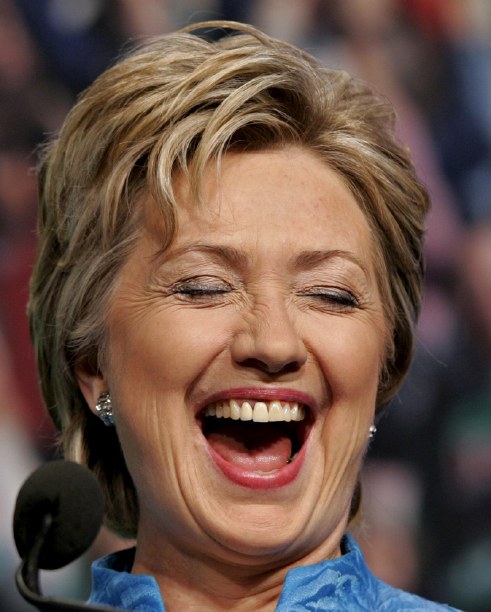 The above photo is unaltered, but beware that there is a subtly Photoshopped version it floating around the web in which
her teeth have been slightly enlarged.
---
These two pictures (which were the original inspiration for this page) are both low-resolution outtakes of photos I took of Hillary at
a campaign appearance in Oakland on September 30, 2007
. Have you ever taken similar snapshots of Hillary but never used them because they just didn't "look right"? If so, dig them out and send them to me
here
.